Clarion West is a literary nonprofit that hosts a renowned workshop for speculative fiction writers. For going on forty years, Clarion West has provided support and education for writers of science fiction, fantasy, horror, magic realism, slipstream, and related genre work. As a fantasy writer and graduate of a traditional MFA program in which speculative fiction was categorically disregarded, I feel strongly about the need for programs like Clarion and Clarion West. There's no substitute for being in a room full of people who understand the genre you're working in. Young writers, especially, need this experience to thrive.
Therefore, I'm taking part in a proud fundraising tradition of Clarion West: the annual Write-a-Thon. Between now and July 29, I and hundreds of other scribes will be writing toward goals of our own choosing. The Write-a-thon has only just begun, and participants have already collectively raised nearly $3,000! There's a lot of great energy in this group, and I'm excited to be a part of it.
My personal writing goals are:
write at least 30 minutes each day
by the end of the Write-a-thon, have the dark fantasy story I'm working on ready to shop
draft a flash fiction piece, genre

TBD

.
I have some special motivation to meet my goals this year, as I am writing in honor of my buddy Steve, whom I grew up with and who passed away last year. Here is a picture of together us as kids: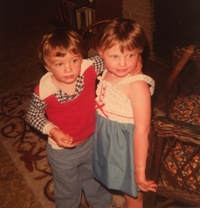 I loved my friend, and it has been very difficult to come to terms with his loss. Throughout his struggles with mental illness, Steve remained a gifted writer. He crafted tough, beautiful poetry that captured his will to survive. The words he left are a gift to the world. Steve inspired me to keep writing, and I'd like his legacy to extend to other writers who need a reason or a reminder to keep going.
In loving memory of Steven Mawer, I'm asking for your support in this year's Clarion West Write-a-Thon. You can contribute weekly donations or one donation for any amount. Even one dollar can make a difference.
Thank you for your sponsorship!